I was reading a post recently that talked about five things in Office 365 that will change your life. Although these five things are great, it felt like someone had been drinking from the hype fountain. Let's revisit those things with a more nuanced take on them.
1. Microsoft Lync is "super-charged" Instant Messaging
True: Lync – now called Skype for Business – is a messaging tool that offers rich text chat, video calls, and several screen sharing tools.  You can add members to the meeting on the fly.
The rest of the story:  Make sure you set up Skype For Business to provide a dial in number for all conference calls and web meetings because not everyone will be joining by computer.  Users who are traveling will often just call in on the phone.  There are governance decisions to make here, such as whether you allow your Skype For Business users to share presence information and chat with users from other companies (something called federation, not to be confused with federated identity), or only internally. If you choose internal use only, users can still invite business partners to web meetings, but it's done via email. Also, the web client for Skype for Business is not as full featured as the desktop client.
Where Skype for Business really shines: In tech support.  The ability for support staff to see the end user's screen is invaluable, and can usually eliminate the need for support staff to ask users for their password.
2. OneDrive offers unlimited storage.
True: According to the OneDrive blog, office 365 subscribers do get unlimited OneDrive (consumer) storage, and unlimited OneDrive for Business is rolling out in 2015.
The rest of the story: As of 6/5/2015, the roadmap entry (O365 Roadmap) characterized "Unlimited storage for OneDrive for Business" as "In Development". In the meantime, One Drive for Business users get 1TB of storage.
Nonetheless, because users will have both OneDrive and OneDrive for Business, some basic training, guidance, and policies are needed. For example, you will want to provide instructions on how to tell the two apart and guide users to put business documents in OneDrive for Business and personal documents in OneDrive.
The desktop sync clients, also called OneDrive and OneDrive for Business, are a key part of this story, providing bidirectional synchronization between local files and "the cloud". Except that what "the cloud" means varies: OneDrive (consumer) desktop client syncs with onedrive.live.com.  OneDrive For Business will sync with SharePoint libraries and the Documents library in a person's MySite.  If that's provided by Office365, then it is the cloud.  If you are using SharePoint on premise, then it's SharePoint servers in your datacenter.  Additionally, Microsoft is planning to consolidate the two sync clients, something the user community is looking forward to. See this session from Ignite for more information: I Sync Therefore I Am.
Caption: A user can have multiple OneDrive For Business accounts from different subscriptions or companies as well as their consumer OneDrive account. Pictured above is a dramatic example of "OneDrive overload" resulting in saving requiring careful attention to ensure files go in the appropriate place.
Where OneDrive and OneDrive for Business really shine:  It enables a user to get to their files from any of the devices in their portfolio – phone, tablet, laptop, etc. It's a key part of Microsoft's goal of creating a seamless multi-device mobile experience.
3. Clutter acts like a personal assistant to help you manage your inbox.
True: Clutter, a newer feature that is part of the email service provided by Office 365, moves to a folder named Clutter messages that you have been ignoring, and learns from your actions to deduce which new messages you will most likely ignore, and moves those to the Clutter folder too.
The rest of the story: Clutter is not available for consumer Outlook.com mail. Clutter has a learning period, so you won't see the difference on day 1. Depending on when your mailbox was provisioned, Clutter may be off by default or on by default. To turn Clutter on or off, you have to go into Outlook Online. Although your other Outlook email clients (phone, desktop) will have the Clutter folder and will help the Clutter service learn your priorities, you can only turn Clutter on and off through Outlook Online.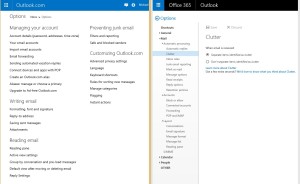 Caption: Clutter is not available for consumer Outlook.com.
Not only does Clutter help to keep your inbox organized, but another advantage of Office 365 email is the massive amount of spam filtering that is done before messages ever reach your inbox.
Caption: From the Office 365 Admin portal, you can see Office 365's spam filters hard at work, making Clutter's job easier by preventing so much garbage from ever arriving at your inbox.
Where Clutter should shine: I say "should" because I haven't had Clutter turned on long enough to speak from first-hand experience, but it should shine the day you find that your inbox only contains messages from actual people and the newsletters you actually want to read, and all the not-quite-spam-but-low-priority newsletters are tucked neatly into the Clutter folder. Clutter also shines in that it is a practical application of machine learning. Enterprises can apply machine learning to some of their own complex business problems by using the same machine learning engine that drives Clutter because that machine learning engine is available to anyone via Windows Azure.
4. Office 365 provides online, mobile device, and desktop versions of all the office applications.
True: Office 365 provides Word Online, Excel Online, PowerPoint Online, InfoPath Online, and OneNote Online.
The rest of the story:  Not all flavors of any member of the office suite are created equal.  For example, although Office 2013 Word and PowerPoint desktop applications support real-time coauthoring when the document is stored in a SharePoint document library, Excel 2013 does not.  Excel Online does provide real-time coauthoring, but has limits on file size that are not difficult to hit.  If you are fond of Excel workbooks with many worksheets, a file size over 10MB, and a need for coauthoring, you may be disappointed.  The preview of Excel 2016 did not provide coauthoring support either.  If that capability is important to you, let your voice be heard on the Office 365 UserVoice forum. Specifically, cast three votes at http://bit.ly/CoAuthInExcel and http://bit.ly/ExcelOnlineLimits .Generally, the online applications have fewer features than their desktop counterparts, but are perfect for a quick view or edit of existing content.  The desktop applications have richer functionality.  The printing experience is also very different.  Office web apps print to PDF, desktop Office applications print to your local or network printers and provide access to all the printing controls you expect.Where Office applications shine: Office applications Word, Excel, PowerPoint, and OneNote are now available for iOS, Android, and Windows Phone, making mobile viewing of office documents easy.  Mobile editing of those documents is still cumbersome on small screens however.
5. Microsoft has two tools for creating presentations, PowerPoint and Sway. Bing image search lets you easily find images for your presentation.
True: Microsoft does provide PowerPoint and Sway, and Sway competes with Prezi.  Both Prezi and Sway are web based.  So is PowerPoint Online. Bing does let you search for images from across the Internet.
The rest of the story:  The tool is less important than the message.  If you are using any of these to inform, persuade, educate, or inspire, your slides are just supporting material. It's what you say, how you say it, and how you make people feel that will make the difference.  Regardless of the tool, if you are filling the slides with text, you are probably doing it wrong.  Read the book "Beyond Bullet Points", or other books on presenting, and you'll understand what I am talking about.  Images are a key component of making a slide you can talk about, rather than one that talks for you, or worse talks over you.  If you fill your slide with text, your audience will read it rather than listen to you.  If you file your slide with an image and a little text, you as the speaker hold the audience's attention because you are providing the message. Finding images is easy, but you need to respect copyright.  Bing Image search makes this easier with a search filter for image licenses, but you still need to check the image you find.  If in doubt, don't use it.   If you can't find anything you are sure you can use, you can always draw your own – See Dan Roam's book "Show and Tell".  Now, let's say the presentation you are working on contains company confidential information.  Sure, easy sharing is great, but what if you need to make sure that a document stays within the company.  IRM – Information Rights Management – to the rescue.  No need to stand up Windows Rights Management servers. Just enable the service! Now you can use IRM to limit what people can do with your sensitive Office documents.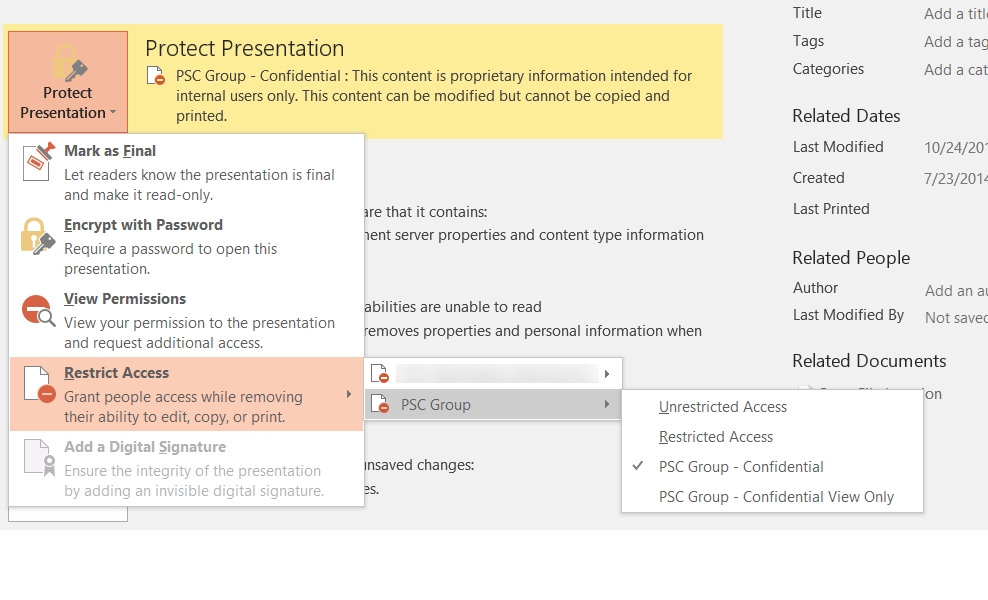 Did this whet your appetite to find out more about Office 365? If so, here's additional reading:
Need an expert guide to Office 365 that will address needs specific to your organization? PSC is hosting in-person Office 365 workshops called the Customer Immersion Experience (CIE) – formerly known as the Microsoft Experience Center (MEC).  These are half day workshops for up to a dozen people and they are lead by our expert facilitator, Ross Bellak. Microsoft provides the latest devices and a preconfigured Office 365 environment where you can safely explore what Office 365 offers in a meaningful way. PSC provides the expert guidance through the environment and helps you understand how Office 365 can be made to help your business.  Sign up today!
Michael